397 Massachusetts Avenue, South End
In 1952-1953, while a graduate student at the Boston University School of Theology, Martin Luther King resided in a building located at 397 Massachusetts Avenue (as indicated by a small plaque on its façade). At the time, it was likely a boarding house in which residents rented rooms.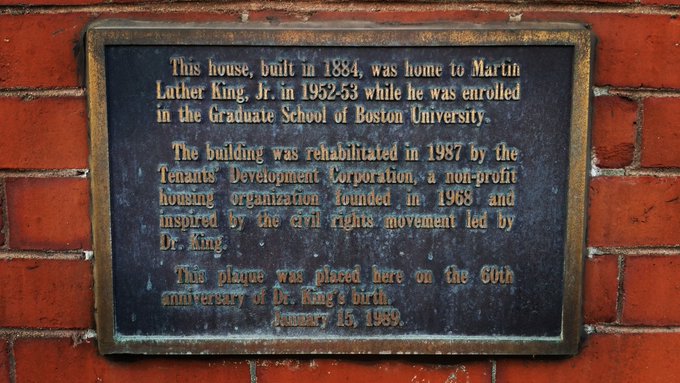 MLK's apartment also served as the meeting place for the Dialectical Society, a club dedicated to discussing matters of philosophy and theology and composed largely of African American male graduate students. His future wife, Coretta Scott (who he met in early 1952), lived nearby as she was a student at the New England Conservatory of Music, and occasionally participated in the group's meetings.
In the early 1950, the neighborhood was a vibrant, largely Black community with a rich array of restaurants and jazz clubs, ones where the likes of Count Basie and Duke Ellington could be seen. Today, only a few of those institutions remain in the heavily gentrified area.
No longer a boarding house, 397 Massachusetts Avenue is today home to apartments owned and maintained by the South End's Tenants' Development Corporation. Founded in 1968, the organization works to increase the availability of housing for low- and moderate-income individuals and families.
Getting there:
Orange Line to Massachusetts Avenue Station. Exit at Massachusetts Avenue and immediately go left. Number 397 is two buildings away on the left-hand side.
Nearby points of interest:
170 St. Botolph Street. At some point after living at 397 Massachusetts Avenue, MLK lived in an apartment in this building.
Wally's Café Jazz Club (the last of the area's venerable jazz and blues clubs), 427 Massachusetts Avenue.
Charlie's Sandwich Shoppe. Established in 1927, the white-owned restaurant was featured in The Green Book as it welcomed Black diners and Black jazz musicians during its first few decades, a time when many area establishments. The floor above the restaurant served as the union hall of the Boston branch of the Brotherhood of Sleeping Car Porters, an African-American-led union. 429 Columbus Avenue.
New England Conservatory of Music, 290 Huntington Avenue.
To learn more:
Cara Feinberg, "When Martin met Coretta," The Boston Globe, January 22, 2003.
Stephen C. Ferguson II, "The Philosopher King: An Examination of the Influence of Dialectics on King's Political Thought and Practice," in Robert E. Birt, The Liberatory Thought of Martin Luther King: Critical Essays on the Philosopher King, Lanham, Maryland: Lexington Books, 2012: 87-108.
Robert Hayden, "Local activists recall King's presence in Hub," The Bay State Banner, January 14, 2015.
For more sites in Boston associated with Martin Luther King, see the "Malcolm and Martin Tour." in A People's Guide to Greater Boston.
Photo credit:
The photo at the top of the entry is from April 22, 1965. MLK is speaking on the front steps of the William Boardman School in Roxbury, in support of parents working to remedy substandard and unequal schools and racial segregation in the Boston Public Schools. Source: Boston Herald.